---
It is possible for you to use normal engineered wood flooring in the bathroom (it is not advised to use solid) but it is not easy and can get slippy when wet. The flooring will need to be finished with lacquer or hard wax oil and even with engineered there is a good possibilty the humidity will mean the wood will expand and contract potentially damaging the boards. Laminated flooring also suffers from the same problems.
Our bathrooom wood flooing from design parquet comes pre oiled with a rubber seal that helps with waterproofing and also makes the floor slip resistant. These Navylam+ flooring products have been specifically designed for use in room with high humidity and, when installed with the Navylam+ Installation Kit, comes with a 10 year guarantee.
Installation is also made easier with this system. There is no sanding, oiling or joint laying, you simply use the specialist Navycol+ transparent glue to the integrated groove joints on each board and you are done. We suggest using a proffesional floor installer for the perfect fit but this system is easy enough for an reletively handy amature to install themselves.
Thickness: 9mm
Width: 68mm, 88mm or 136mm
Length: 400mm to 1200mm
Our SPA OAK hardwood flooring has been specially developed for use in the bathrooms which has enhanced moisture resistance due to the enhanced engineered structure to manage the shrinkage and swelling that of a standard engineered hardwood floor.
We have 3 colour tones within the Spa Oak range has been designed for use in humid conditions, Oak, Smoked Oak and African Oak which allows you to be creative with an inspirational design alternative to stone and ceramic flooring.
Thickness: 10mm
Wear Layer: 3.5mm Solid Oak
Width: 120mm
Length: 1000mm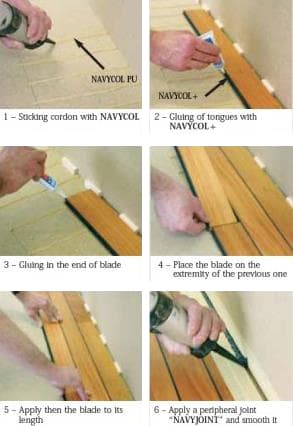 Sub-floor: It must be according to the actual DTU-norm. You must take care to have a perfect flatness because planks are pre-finished product, so it does not need to sanded after laying. Packages must be opened prior to install to ensure better stabilization due to the hygrometry of the room. The hygrometry during the laying must be stable and between 45% and 65%. The dampness of the mortar or concrete support must be equal or less than 3% at a depth of 2cm. For others, refer to the technical application document, all information about dampness are specified. The heating system must be put on few days before laying your wood flooring (see DTU 51.2). If it exceeds 3%, use ISO ALU TB (be careful, it is not compatible on a heated floor). If it is laid on underfloor heating the dampness of the support must be less then 2% and for anhydrite screed, less than 0.5%.
Laying: We recommend that before you to glue any strips of parquet that you mix the planks every 3 rows to harmonise colours and prepare your sections. After that draw a line on the floor to delimit the surface to glue. Take out the strips/planks in to the right order and apply glue per plank and in order.
Begin the laying of your bathroom parquet flooring, do not forget to allow an expansion gap around around the edge of a minimum 5mm all around your room for expansion. For the first line, the groove is on the wall side and the tongue with the Navycol+ and also in the end of the blade.
If the glue overflows on the wood flooring, clean it immediately. Continue to lay with the same process. The next step is the expansion joint. Before you begin protect your parquet flooring in the sticking an adhesive all around your room in peripheral. Run the Navyjoint and smooth it with a spatula. Remove the adhesive and let dry.
Finishing: After laying , clean the wood flooring with a cloth that is slightly wet. Then apply with a rag one or two thin coats of Oil (Navyhulle), it is the same oil that is used for maintenance. Do not let the oil get on the joints.
Navylam+ bathroom flooring can be cleaned easily. To renovate your bathroom wood floor we advise to use the spray Navyhuile (available from Maples & Birch) and wipe with a clean moist cloth. it is that easy. As long as you keep you floor cleaned and maintained you can have a beautiful wooden floor in you bathroom for years to come.
There are also a number of other maintenance and installation products available specifically designed for Navylam+ in our Bathroom Flooring Accessories category.
Please note; as real wood is a natural product with variation, all images are representative of random selection and may not match the exact design of your ordered floor.
Can't Find What You Are Looking For?
If you are unable to find a particular type of wood floor you desire then worry not as we have access to the most comprehensive range of wood floors and exotic species in the UK, so challenge us to find your floor and fill in the request form.