Here are ten reasons why people are choosing wooden bathroom floors.
Looks Wonderful and is Very Popular
Wooden bathroom floors look great and transform a utility space into a haven. Wood is naturally associated with tranquillity and nature – what better material to have in your bathroom. Now that people are realising that there are wood styles that resist the effects of water, they are becoming increasingly popular in stylish homes across the country.
Naturally Water Resistant
Many types of hardwood floors are wonderfully water resistant. Let's face it, People have been building boats out of wood for thousands of years. Wood species such as Teak and Ipe are ideal for wooden bathroom floors as are Iroko, Doussie, Mutenye, and Wenge.
Warm to Touch
Wood is a naturally warm material both in the way that it looks and how it feels. The truth is that marble, stone and tiles just feel colder unless there is underfloor heating. Wooden Bathroom Floors make a room look cosy, particularly in cooler northern climates like the UK. It can also be matched to an adjoining bedroom where tile or marble will often look out of place. Many people also find that correctly treated wood floors are less slippery.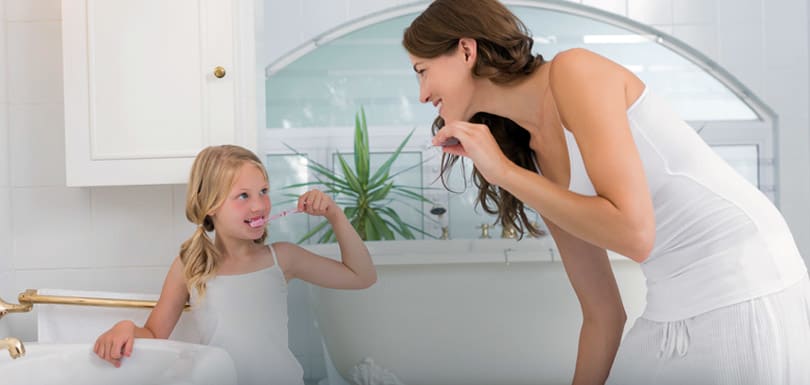 Naturally Hygienic
Scientific test are revealing that wood is a naturally anti-bacterial material and increasingly being recognised once more as a practical and hygienic choice for bathroom floors. Hardwoods are rich in compounds that have been shown to eliminate bacteria. Correctly treated engineered wood flooring is easy to clean and stain resistant.
Lasts for Decades
Engineered wooden bathroom floors don't crack like tiles, don't accumulate dirt like carpets and keep looking great for many years. Tests have shown that a quality wood floor can last for more than 50 years. That's why Maples and Birch offer a lifetime guarantee on our products.
Timeless Appeal
The timeless appeal of wooden flooring is unchallengeable. They just look great and stay looking good for decades. There is nothing like beautiful wooden floor to say this house is a home. Fashion fads may come and go but people always return to wood – nature's wonder material.
Under Floor Heating
People often ask if engineered wood is suitable for underfloor heating. The answer is a definite yes. Hardwood flooring is particularly conductive to heat and just seems to stay warmer for longer. Not only is underfloor heating an effective and comfortable heating solution but also provides a way to save space in your bathroom.
Variety
There is a wide range of exotic wooden bathroom floor styles available. These include Teak, Ipe, Afrormosia, Merbau, Iroko, Doussie, Acacia, Bubinga, Amarante, Mutenye, and Wenge. The natural colours of these species can match any décor from the light golden shades of Acacia to the deep rich browns of Wenge. With each wood species displaying a different hue and grain it is easy to find the perfect floor.
Restorable
Hardwood bathroom floors are long lasting but, if after many years they are showing signs of their age, it is always quite simple to have them refinished. The process involves sanding off a fine layer of the hardwood and then refinishing the surface with the appropriate treatments. Refinishing restores the grain and natural colour of the wood. Done properly, your floor will look as if it has just been installed.
Adds Value to your home
Many real estate agents will tell you that an investment in hardwood flooring will add value to your property. Hardwood flooring for your bathroom is a perfect option as it's a lovely feature that is often associated with luxury and style.
These are the top ten reasons to consider engineered hardwood flooring for your bathroom. You're always welcome to call us at Maples and Birch to discuss your needs and find out even more about hardwood flooring.
Contact Form
Call us today for a sample of our Navylam hardwoods selection on Tel: 0845 293 9374 or email Simon at: [email protected]
Can't Find What You Are Looking For?
If you are unable to find a particular type of wood floor you desire then worry not as we have access to the most comprehensive range of wood floors and exotic species in the UK, so challenge us to find your floor and fill in the request form.