---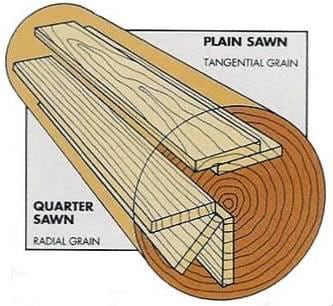 The Cotswold and Country flooring offers a superb collection of distressed, hand-scraped and oiled ranges, offering a portfolio of beautiful timbers in various finishes. Maples & Birch solid wood flooring provides a stylish option to suit both modern and traditional looks. Maples & Birch sources its products the leading producers of solid wood floors giving a very wide range of wood species and surfaces, so no matter what type of floor you choose you will always get the best.
Wood Flooring Cuts - The angle at which a board is cut makes big differences in how the finished product looks. Wood flooring is either plain-sawn, quarter-sawn or rift-sawn.
Plain-sawn is the most common cut. The board contains more variation than the other two cuts because figure patterns resulting from the growth rings are more conspicuous. Quarter-sawing produces less board feet per log than plain-sawing and is therefore more of a premium.
Quarter-sawn wood twists and cups less and wears more evenly. Rift-sawn is similar to quarter-sawn, but the cut is made at a slightly different angle.
Please note; as real wood is a natural product with variation, all images are representative of random selection and may not match the exact design of your ordered floor.
Can't Find What You Are Looking For?
If you are unable to find a particular type of wood floor you desire then worry not as we have access to the most comprehensive range of wood floors and exotic species in the UK, so challenge us to find your floor and fill in the request form.