There are various engineered flooring options available but nothing can beat the charm and gold standard of oak engineered hardwood flooring. It is one of the most authentic and stylish types of hardwood flooring available that is also highly resistant to wear and tear. It requires only a little maintenance to ensure that it looks magnificent for years to come.
Easy to maintain and hard wearing, Oak Engineered Hardwood Flooring will be a perfect addition to your contemporary hallway, living room, and even bedroom. Once properly installed it will last longer than you can imagine. However, selection of the right quality products can sometimes get confusing. Here we have a few tips that will help you to select the Oak Engineered Hardwood Flooring that is perfect for you and your home.
Type of Finish
There is a variety of finishing products available but the most popular are as follows:
Natural Oil / Penetrating oil
Lacquered / Site to finish polyurethanes
UV Oil / Oil-like hybrids
Lacquered / Prefinished UV urethane
However, most of the finishes fall into only two categories which are polyurethane and oil. While oil is the classic finishing product and will penetrate the wood and give it a matte, soft and natural appearance it is not as resistant to damage and stains as polyurethane.
Polyurethane will create a hard topcoat on the surface of the wood. This makes it more resistant to damage and is ideal for people who have children or for areas where high footfall is expected.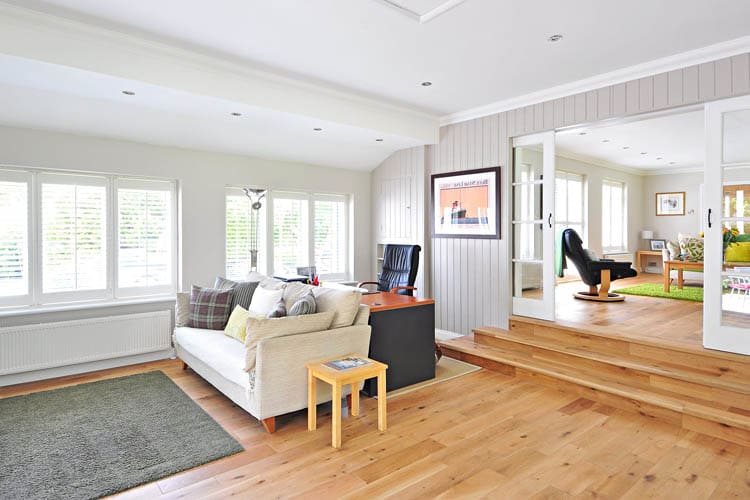 Oak is the Classic Wood of Choice
Many people are confused about which wood type will be the best and there is certainly a wide variety of species to choose from. However, there is no doubt that oak is one of the most popular when you're selecting a new engineered hardwood floor. For many interior designers and homebuilders oak is, and always will be, the king of wooden floors. It is one of the best quality wood species that is resistant to stains. Oak has a natural and appealing grain. It is easily available across the region which means oak is affordable and sustainable. Right now white oak is one of the most prevalent choices as you will not get the much desired pinkish tones in standard oak.
When it's a cold day Hardwood floors keeps your feet warmer and when it is a warm day hardwood floors are refreshingly cool, thanks to it's natural cellar structures. Wood is natural in design and as such is great insulator with thousands of air chambers per cubic inch.
Pick a Grain Pattern
There are three different patterns often created when logs are cut for flooring.
Quarter sawn
Rift sawn
Plain sawn
In plain sawn, you will get a traditional woodgrain. The pattern is professionally known as cathedral or vertical wood grain.
You will get long, consistent and linear grains in the rift sawn boards.
Quarter sawn is almost similar to rift sawn but there is additional irregular styling of the pattern that imparts a distinctive 3D look to the planks.
Plank Width
There was a time when the size of all planks used in hardwood flooring was limited to only a few inches. However, as hardwood flooring technology has improved most people now prefer to use wider planks. Once you install a wider plank, your interior will almost always look more luxurious. However, wider planks can be slightly more of a premium price wise compared to regular planks but most designers feel the additional cost is absolutely worthwhile when it comes to the niceties of interior design. If you are planning to have a wider plank then it seems as if 6 to eight inches is now the ideal size. Please bear in mind that this also depends on the size of the room and the application process.
Multi Width
Maples & Birch have been proud to have an Oak Engineered Oak Hardwood floor that is available in multi-widths of 150mm, 180mm and 240mm, The French Barn Oak in the Metro Range enables you to have a floor with various multi-widths giving a rustic and traditional charm and appearance finished in a hardwearing UV Oil.
Make sure that you purchase your Oak Engineered Hardwood Flooring planks from Maples & Birch to ensure that you receive the quality product that you need with peace of mind knowing that all Maples & Birch hardwood floors carry a Life Time Structural Guarantee.
Maples & Birch are dedicated to sourcing quality engineered hardwood floors and to do achieve this we ensure we select producers and mills that are innovative and who ensue environmental friendly ways of producing our flooring range.
It's always best to work with one of our experts for the installation process to ensure that all the planks will be perfectly arranged and set in a symmetrical manner that will enhance the overall look of your interior. You can use the Oak Engineered Hardwood Flooring in your home and office.
We're convinced that using oak will change the overall appearance of your interior in a stylish, rustic and appealing way.
Visit our catalogue pages to see the full range available
Maples and Birch stock a range of exquisite Engineered Herringbone Flooring. Call us today for samples of our hardwood flooring on Tel: 0333 533 3330.