Brand new wooden flooring is a wonderful choice but sometimes what you need is a style more suited to a rustic or older room. Distressed engineered wooden flooring from Maples and Birch has been deliberately pre-aged to have a slightly worn appearance.  This often adds real character to an area and ensures a true continuity of design. Quality is still of absolute importance and once the surface of the wood has been 'distressed' it is carefully refinished and treated with a coat of protective oil to seal in its timeless charm and characteristic imperfections. Distressed hardwood flooring is the perfect choice for people who are looking to create a homely and ageless ambience. A wonderful option for anyone looking for a rustic but hardwearing floor.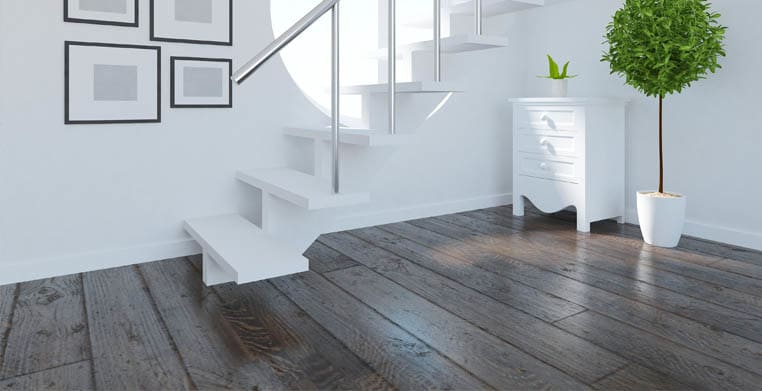 WHAT IS DISTRESSED FLOORING?
Distressed wood flooring actually benefits from the knots, imperfections and even cracks that wooden floorboards naturally acquire over time. Traditionally, these are often hidden during the staining and finishing process but with distressed wood they are emphasised as character features and smoothed into the final authentic surface.
Distressed wood is one of the most affordable ways to get an authentic "worn" look for the floors in your home. Alternatives are often much more expensive as they require extensive labour after fitting. In the past, the only option available was to use wood that had been reclaimed or to have a dedicated craftsman hand finish the surface. Now it is possible to create the look that you want through use of long lasting and authentic engineered planks.
INCREASING DEMAND
Distressed Engineered wood flooring is becoming ever more sought-after by people looking for a practical, beautiful and affordable wood flooring option with a truly country feel. Every year new styles, shades and finishes are added to the Maples and Birch signature range. By choosing engineered wood you can be assured that your new distressed wooden floor will be durable, resist the shrinkage and swelling that can affect some woods when there are shifts in humidity and temperature. Still, it is especially important with distressed floors that you take care of the surface by using quality coatings and cleaners both of which are available from Hardwood Flooring Accessories.com
Oak is the ideal material for creating distressed wooden flooring as it has the qualities of hardwood but is adaptable enough to be fashioned to appear older than it is. Some of our most popular styles include; Brushed Oiled Rennes Oak, Black Grain Avignon Oak, and Lacquered Antique Tuscan Oak.
With the increasing number of concrete subfloors now found in new home construction, the options for better wooden flooring are following suit. Our distressed engineered hardwood surface is 5mm thick and 190mm wide and engineered together with 11 layers of exterior grade Baltic birch as a substrate for exceptional quality and stability. As with most engineered wood floors from Maples and Birch, the installation process makes use of the industry standard tongue and groove system.