Wood has always been a much loved feature in homes and has been incorporated in designs from rustic log cabins to ultra-modern 2ist century skyscrapers. Interior designers are rediscovering the magic of using wood on both horizontal and vertical surfaces – a trend that continues to grow with no signs of stopping anytime soon.
When it comes to wood and interior design – you just can't get enough of a good thing. Wood offers a huge variety of shapes, grains, tints and patterns. A tip from our leading in-house designer – Georgie Osbourne – is you should always be prepared mix up the different visual elements to create striking contrasts while always striving to create spatial balance.
DECIDE ON THE FLOOR FIRST
When designing a room or open space with wood it's always important to decide on the floor first. This will almost always be the largest expanse in your creative space and will need to set the overall tone for the design. From the start you have a huge choice you should consider. The size of the engineered wood planks is a great place to start. As a rule its best to choose narrower strips or parquet for smaller areas and save the longer and wider planks for larger areas. Again, with smaller areas it's often best to consider lighter woods that will brighten the space by reflecting more light.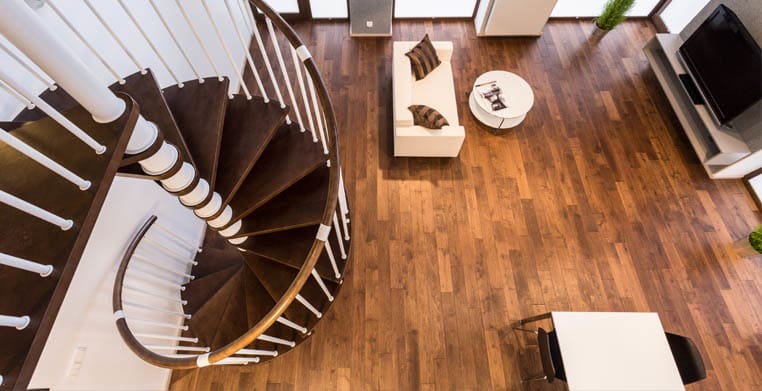 HORIZONTAL OR VERTICAL
Once you've selected the style and species of engineered wood that is perfect for your floor it's important to decide whether you'll use horizontal or vertical patterning for other features of the room such as panelling, fittings, bookshelves and furnishings. In the image below the designer has chosen to align all the planks and grains in the same direction from ceiling to floor.
As can be seen from the image, even the grain of the furniture has been aligned to match. The results is calming, warm and comforting – ideal for a bedroom or cabin retreat.
Alternatively, if you're looking to create a dynamic and interesting space then it is possible to do this by deliberately changing the angle of the grain and the planks. The image above of a modern wood office clearly shows how the room now seems to exude energy even through it is almost entirely made of vertical and horizontal wood patterns.
In particular, the floor is made of mixed out with a medium tint and laid in a chevron parquet pattern. The desk and wall are darker and use longer sections but always at an angle to each other.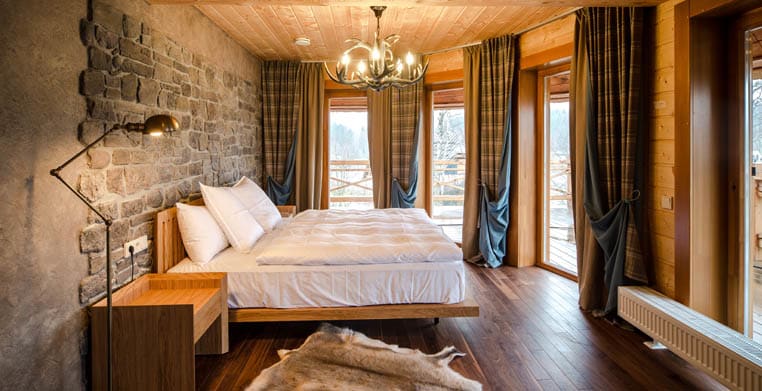 These are just two ways to look at using wood flooring together with other wood features to create an incredible space personal to you.
For more information about how to use wood to create extraordinary spaces contact us at Maples and Birch.