Walnut flooring is rapidly growing in popularity again. Maples & Birch are pleased to be able to offer a range of engineered walnut flooring.
Walnut trees are deciduous and can grow up to 40m tall over a period of 20 years. Grown for both their valuable nuts and highly patterned wood, this tree is prized around the world. There are several species variants of the walnut family used for flooring but the most popular is American Black Walnut (Juglans Nigra) which is native to North America. It was first introduced into Europe during the early 1600's where it grows well.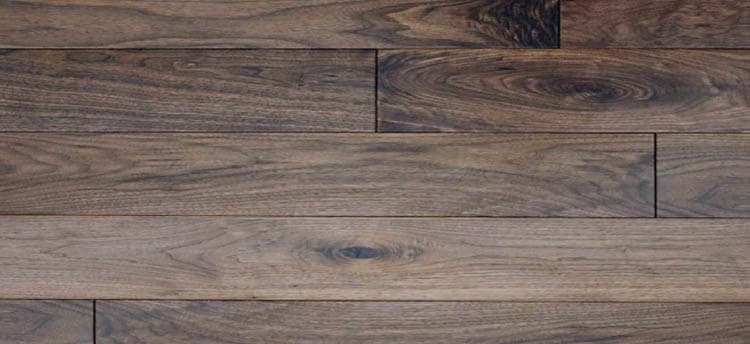 The wood of the Black Walnut is durable and resistant to decay. With a Janka hardness score of 1,010 it is only a little softer than English Oak. Not only is it a popular flooring material, the wood species is valued for making rifle stocks, premium furniture, musical instruments, cabinetry and a range of sporting goods.
The raw wood from the Black Walnut used for flooring is generally a medium chocolate brown with darker stripes and a fine but distinctive grain enhanced by whorls, knots and lines. The timber can also have a grey, purple, or reddish tone that emphasise its patterning. The grain is usually fairly straight but can be highly figured and desirably mottled, particularly if the timber is from the heartwood of the tree. Along with its much sort after grain, it has a natural lustre which makes it one of the most popular woods for craftsmen across the world. Polished, it has a distinctive and brilliant shine.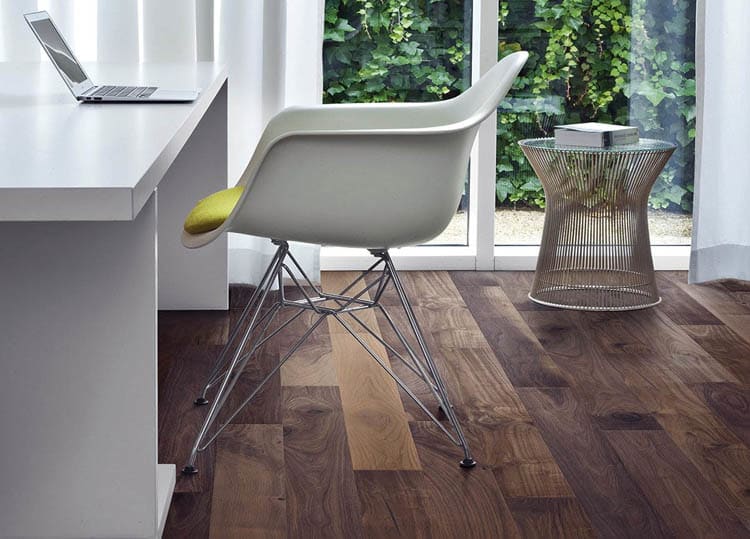 Wood from the walnut tree is sustainably produced both in Europe and America and has some restrictions on its use and is sourced from farm forests at a premium.  Maples & Birch offer a range of engineered and solid walnut floors including American Black Walnut 130mm Solid hardwood flooring, American Black Walnut 150mm Engineered Hardwood Flooring, Walnut 3Strip Engineered Wood Flooring and American Black Walnut Engineered 280mmHerringbone Block – just to mention a few.
One of our most popular products is American Black Walnut 125mm Engineered Hardwood Flooring. Engineered floors are more stable, cost-effective and generally easier to fit than solid wood floors. Engineered walnut flooring is created by pressure bonding a layer of real hardwood to a base of premium grade plywood that has been tensioned to stabiles the surface material making it resistant to bowing and temperature-related contractions.

Walnut flooring can often be distinguished by distinctive rings, knots and lines. This provides the floors with their characteristic style that makes it such a popular choice for hallways and living rooms. Maples & Birch have a wonderful range of engineered flooring, which is available to buy direct at truly affordable prices. If you are thinking of a walnut floor consider ordering a free sample to see for yourself the excellence and finish of your chosen floor?
This is a darker wood, but one with rich features and tones, including deep brown swirls, lines and knots to provide a distinctive and attractive surface. They are available in different grades, with a choice of smooth or bevelled edges and between 3 strip and single plank configurations.
Flooring can be supplied as either solid or engineered planks as well as engineered parquet blocks. Installing flooring is a specific skill and it is always best to work with one of our experts for the fitting process to ensure the highest standards.
Visit our catalogue pages to see the full range available or for more information and a free consultation please contact the Sales Team at: