For the last few years, the popularity of Grey Oak Hardwood Flooring has been rapidly increasing. When the wood style was introduced in the industry for the first time some professional interior designers and homeowners avoided it considering that it would not stay in trend for a long time. However, it seems like this stylish option is here to stay.
Why is grey oak hardwood flooring is so special? What are the features that makes this material so attractive when compared to other types of woods? Here we have some of the most interesting reasons to help you understand why this choice is the best.

Neutral colours are regarded as the lifeblood of the interior design industry and the new neutral colour in the industry is definitely grey.
This neutral tone is compatible with a huge variety of colours and different styles of home décor. It will compliment any all-encompassing room theme and has a soothing yet sophisticated tone.
Calming Effect
The biggest attraction of grey coloured oak hardwood flooring is that it brings a calming effect to any room. It will create a sense of serenity and open space which is perfect for any location where there is a hustle and bustle of activity.
This floor style is ideal for homes as people generally want them to be relaxing. It is a perfect choice if you want to create a calming space in your home. Although grey wood flooring is commonly installed in the kitchen, it is also a perfect choice for an office or study. Still, the underlying and soothing nature of the colour can be beneficial anywhere.
Increases the space
Grey is a light tone and as such it will make your interiors appear more spacious and bigger. If you have smaller rooms and you want to create an illusion of spacious interior then grey oak flooring will be a perfect choice. It will always add the impression of more length to your rooms. On the other hand, if you will consider using wider planks, it would be more beneficial with the light colour furniture and walls.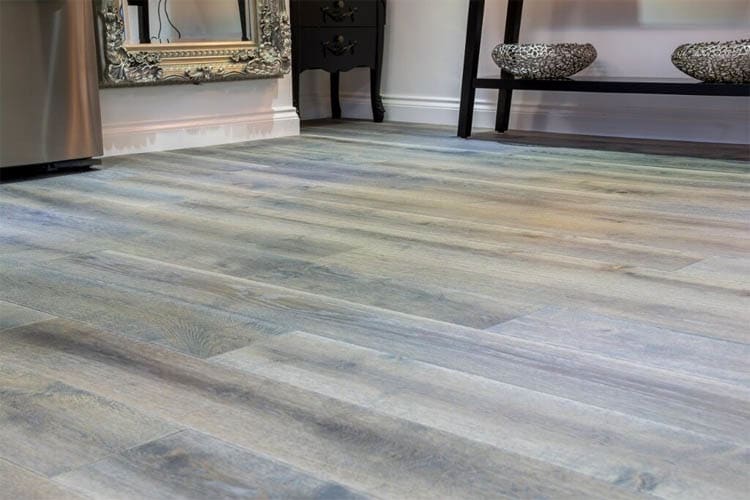 The Grey Oak Flooring Trend
We hope that you have seen some of the benefits that come with hardwood flooring made from grey oak. If it's spacious sophistication that you are looking for then do not make the mistake of using any other colur when you can create the perfect effect that you want in your home.
It has become clear that Grey Oak Hardwood Flooring will remain popular in the flooring industry for a long time to come. This should mean that you will not have to replace or restyle the flooring of your house any time soon time.
It is also important to remember that despite being a light color, it is easy to remove all the stains from the flooring if you will use high-quality finishing. Properly cared for grey wood flooring is effortless to maintain and can make your interior look both light and interesting. All types of grains and wood patterns are available.
You can easily select the one which you are most comfortable with. If you are confused regarding the quality and durability of the products, you can consult one of our experts, and they will provide you complete guidance regarding how you can select the correct tone of grey oak hardwood flooring to achieve the best results. We're convinced that it will change the overall appearance of your interior in a fascinating and appealing way.
Visit our catalogue pages to see the full range available
Maples and Birch stock a range of exquisite grey oak hardwood Flooring. Call us today for samples of our hardwood flooring on Tel: 0333 533 3330.