OAK HERRINGBONE PARQUET FLOORING – A GREAT CHOICE FOR 2019
Herringbone Parquet is a timeless option that homeowners select to create a traditional or classic look. But, what exactly is engineered herringbone flooring?
Instead of using planks of wood a herringbone pattern is created by using smaller blocks where the ends are aligned at an angle with a distinctive overlap. A herringbone floor has nothing to do with the colour of the wood just the way that it is set out across the floor. This design is available in many species but the most popular is Oak Herringbone Parquet Flooring. You can also select the perfect finish to enhance the look and feel of your rooms. When people talk about parquet floors they are usually describing herringbone patterns.
Parquet flooring can be broadly divided into four main styles.  Herringbone, Chevron, Mosaic and Brick.
The most common herringbone patterns are: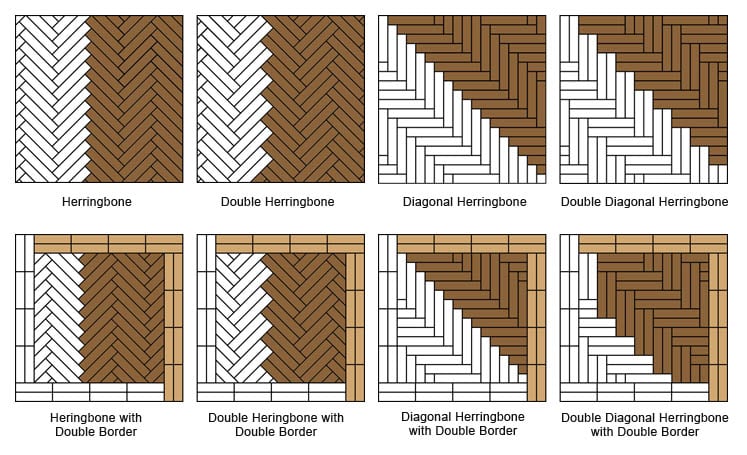 It is one of the most versatile and luxurious floor options available which is used everywhere around the world. It is believed to have been first used in 16th century France but was the 'must have' flooring option in England during the Georgian era. It was, and still is, the watchword for sophisticated elegance.
Engineered Oak Herringbone Parquet will transform the appeal of a room and is ideal for durable and long-lasting floors. Whereas herringbone parquet was once incredibly expensive to install, that has all changed with the introduction of engineered herringbone options. Still using a solid surface wood it now also uses the tongue and groove or click-link method that makes it substantially easier and more cost effective to install.

Click Interlocking Oak Flooring
As opposed to solid oak, engineered oak herringbone flooring is also suitable to be used together with underfloor heating and particularly useful for rooms with large amounts of glass and fluctuating temperatures.
Oak Herringbone Flooring is here to stay. The durability and stability of the products make it the perfect choice for homes and all types of commercial venues. It is attractive, cost-effective and stable. In general, this type of flooring is most suitable for solid floors i.e. concrete, which would most likely to be on the ground floor of the house in areas such as the hall and living space.
Wonderful options
Oak is one of the most popular and versatile flooring options available. It is hardwearing, long-lasting and, if treated correctly, is resistant to a wide range of temperature and humidity conditions. Due to its popularity it is available in wide range of colour tones and grain patterns. Oak actually improves with age with natural colours tending to become even more beautiful. Oak provides a selection of good-looking grain patterns that are ideal for flooring. Prime grades are very uniform whereas rustic grades have lots of knots and whorls adding to the character of the floor. Among experts, Oak is considered to be excellent for staining and colouring and thus expanding the already huge choice available.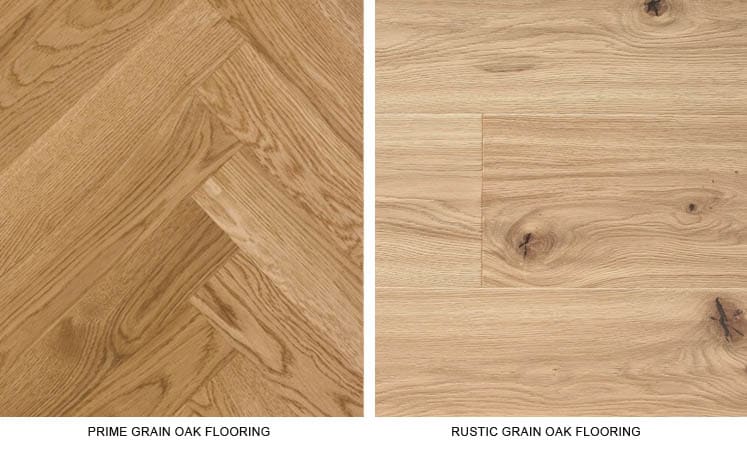 Finished or Unfinished
Oak herringbone flooring can be provided as either solid or engineered blocks. It can be provided with either a finished or an unfinished surface depending on your requirements. Unfinished wood flooring generally costs a little less but you will have the costs of finishing the floor to consider once it has been installed. Unfinished surfaces can be stained and treated to match your exact requirements. Finished wood floors have already been treated and can be used immediately. The colour and tone is pre-set and can only be changed by sanding down the surface of the wood and refinishing it.
Resurfacing
As with all engineered wood floors, it is fully possible to strip and resurface parquet floors to restore them to their original appearance. Although it is quite possible to do this yourself it is advised that you use a professional resurfacing specialist.
A huge added benefit is the ability to replace a single section should it become damaged so long as care is taken to colour match the new section. However, before installing oak herringbone parquet flooring in your home, it is important to decide on the best pattern and type of oak to suit your space.
Herringbone Hardwood Flooring can be supplied as either solid or engineered planks as well as engineered parquet blocks. Installing herringbone flooring is a specific skill and it is always best to work with a parquet specialist to ensure the highest standards.
Visit our catalogue pages to see the full range available or for more information and a free consultation please contact the Sales Team at: 0333 533 3330