We are often asked what are the best parquet floor designs and patterns. The answer always has to be – whatever suits the space you're working with after all parquet is about what suits your personal preferences. Currently herringbone designs are exceptionally popular but there is truly a wide range of configurations available which can be created using either solid wood or engineered wood blocks. Please note that Herringbone, Brick, Basket Weave and Chevron patterns are made from block parquet.
Herringbone
The herringbone pattern is one of the earliest forms of parquet floor designs and dates back to at least 1539 as evidenced by the floor of the François I Gallery Fontainebleau in France.

With a distinctive fishbone form, Herringbone has become one of the most popular and sought after designs. Herringbone takes its name from the zig zag pattern typical associated with the bones of a fish. It is used in fabric design, brickwork, carpeting and even pottery and home wear. It can be laid as either typical or diagonal herringbone. With typical Herringbone the wood blocks are aligned at a 45 degree angle to the walls whereas with diagonal herringbone the pattern is diagonal to the room and the blocks are aligned directly with walls.
Double Herringbone

This is very similar to standard herringbone except that the blocks are doubled up to create a more impactful and squared off shape. It is possible to create a triple block herringbone pattern although this starts to look very similar to the mosaic pattern often referred to as five finger parquet. All parquet designs can be bordered with either a single or double strip of linear parquet to emphasize the borders of the floor.
Chevron Parquet

Chevron is similar to herringbone but has some very significant differences. Whereas the blocks or strips used for herringbone are rectangular, Chevron planks are cut with either a 45 degree or a 60 degree angle forming the shape of a parallelogram. These angled edges are flush aligned whereas herringbone blocks overlap. The chevron pattern as part of parquet floor designs is believed to have been fashioned after a 16th century style of embroidery most likely named after Elizabeth of Hungary and called Point de Hongrie.
Brick Parquet

Brick pattern is similar to wood strip parquet (various lengths) and makes use of rectangular shapes. However, brick parquet uses strips of equal length which means that the pattern of joins is regular in both directions. This pattern works extremely well in rooms that are longer than they are wide such as hallways.
Stack Parquet

Stack Bond Parquet falls into the family of brick designs. Unlike Brick Bond parquet, stack bond sees the parquet block arranged in aligned stacks rather than overlapping. This pattern is sometimes also known as ladder parquetry.
Checkerboard Parquet
True checkerboard parquet is sometimes confused with the mosaic pattern. Checkerboard is made of square blocks of solid or engineered wood and varies in size depending on the species of wood and general availability. It was popular during the Victorian era but has since become less used due to its overwhelming sense of uniformity and the difficulty of matching the squares precisely to the size of a room.
Mosaic

Mosaic parquet is made up of uniform strips of wood – usually between four and six – to form a square shape. This pattern is then repeated across the floor with each alternating set of wooden strips set at a 90 degree angle. The result is an attractive geometric display that is far more flowing than standard checkerboard parquet. The slight colour gradient between the strips also softens the look and feel. Finally, because of the in-square patterns it is possible to match the available space more effective. Both checkerboard and mosaic can be set aligned to the walls or set at an angle to create more of a visual diamond effect.
Basket Weave

Parquet floor designs can be quite complex and often made in square panels like those found in French chateaus. This is a clever design that uses two distinct shapes to create the optical illusion of a floor that has had its planks interwoven just like the wicker of a basket. The design generally makes use of small rectangular wooden planks offset with even smaller squares of wood that can be either the same colour or of a different tone to enhance the impact of the design. The design works best with fine grained and uniform timber that focus the eye on the natural lines of the planks and the angles of the patterns.
Double Basket Weave

As with double herringbone, it is possible to double up the rectangular planks to create a bolder and more visible pattern. These planks can either be the same colour or a separate but matching tone. A completely different appearance is achieved by the use of two or more timbers. The design has a heritage which dates back as far as Tudor times. Today it is often used as part of a minimalistic décor where it works equally well in both homes and offices. It is often referred to as unpretentious yet very stylish. The gentle uniformity of the pattern works well to highlight soft furnishings such as rugs or inset carpets.
Borders
All parquet floor designs can be enhanced through the use of single or double borders. These borders are set either at an angle, usually 45 degrees or parallel to the main pattern. Mosaic designs are often contained within borders that effectively become an integrated part of the overall pattern. For example, the diagonal herringbone design below has a double border framing the designing.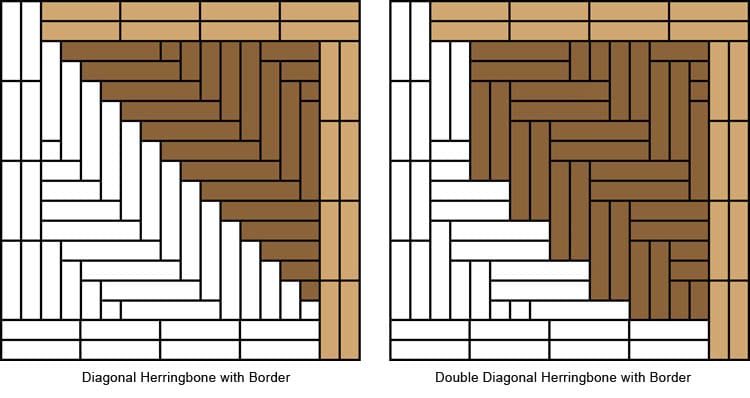 Maples and Birch
Maples and Birch provide a wide range of wood species and finishes suitable for parquet floors such as our Natural Oak 228mm Herringbone Parquet Block.
Herringbone flooring can be supplied as either engineered or solid blocks. Installation of parquet flooring is a specific skill and it is always best seek a professional parquet installer. Our parquet consultants can provide installation advice.
Visit our catalogue pages to see the full range available or for more information and a free consultation please contact the Sales Team at: 0333 533 3330